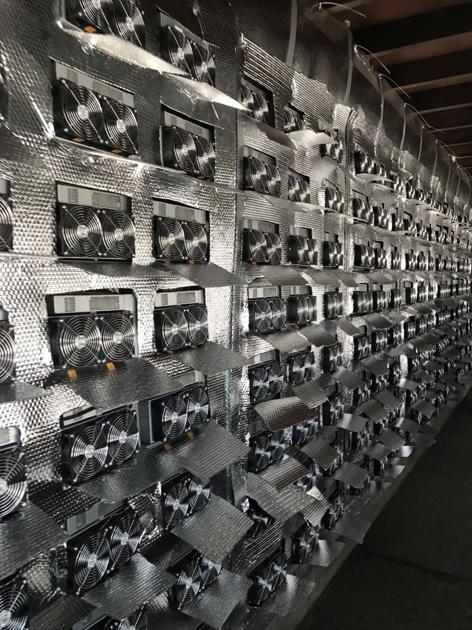 Factors contributing to the recent announcement of a $50 million investment in Paducah by a technology-based company specializing in cryptocurrency mining have local officials excited about landing similar projects in the future.
Blockware Mining Inc., a Chicago-head-quartered company, has bought five acres in Paducah's Industrial Park West and hopes to break ground in the not-too-distant future.
The company plans to hire 20 new employees over the next 24-36 months, and estimates the new facility will have a nearly $6 million recurring annual impact on the community.
Greater Paducah Economic Development worked with Blockware for about year on the project, said Bruce Wilcox, GPED president/CEO.
A number of different organizations played key roles, including Navier, an expert in mining digital currency, Big Rivers Electric, Jackson Purchase Energy, Paducah Power System, Paducah-McCracken County Industrial Development Authority, city of Paducah, McCracken County, the Kentucky Cabinet for Economic Development, and other community partners.
Wilcox credited, among other things, newly-enacted Kentucky legislation with the sales tax incentive, and affordable and competitive power rates, as contributing to the project's success.
"Having the relationship we have with Navier, that solidified all of this," he said. "And, we've gotten a lot of interest from other cryptocurrency companies as well. This really put us on the map."
Big Rivers Electric, which has a substation in Industrial Park West, is also investing an additional $12.7 million in utility infrastructure upgrades, to accommodate 100 megawatts of power.
"Big Rivers is happy to partner with Jackson Purchase Energy to bring economic development project to this region," said Bob Berry, president/CEO of Big Rivers Electric Corporation, following the June 9 announcement.
"Blockware's announcement to locate in Paducah is good news that will benefit our entire cooperative member system."
The fact that Blockware's bitcoin mining operation involved the purchase of land is important to note, Wilcox said.
"This is the first time land has actually been sold for economic development purposes in Industrial Park West in almost 20 years," he said.
"There's been some land given away in other economic development deals but we actually sold the land which has been a nice cash asset for IDA (Industrial Development Authority)."
Industrial Park West is owned by the IDA, which is a quasi-governmental entity.
While Big Rivers is supplying the electricity, Paducah Power System has also been involved in the project, Wilcox said.
"When we started talking with them (Blockware) a year ago, they needed 50 gigabytes per second data service with redundancy and Paducah Power has the fiber network in place there to accommodate that," he said.
"And, since then Comcast has come into town with that much service as well. It's a good opportunity for Paducah Power and Comcast to secure fiber service there.
"It's a good win (for everybody)."
State Rep. Steven Rudy, R-Paducah, the House Majority Floor Leader, said the new legislation aimed at attracting cryptocurrency miners came about after concerns were raised by representatives of Core Scientific, a blockchain hosting facility in Calvert City.
"It all began with a conversation with that facility in Marshall County, where they basically said 'we're a manufacturer, but we're not getting treated like other manufacturers because our technology is so new,' " Rudy said.
"Basically what we did with both of those (recently-passed) bills was modify programs that were already there to include bitcoin manufacturing like other forms of manufacturing. Literally when those (original) laws were passed years ago, and one of them not even a decade ago, we had never even heard of this technology.
"That's how it all got started. But because we did this, we became a national leader in a growing industry and there have been a lot of international articles and publications about this," he said.
"The economic team in Frankfort is going out and actively recruiting this and the local economic development teams are, as they should. That's kind of what we do as legislators, give them tools for the toolbox and let them do the job and get out and recruit … and it looks like that's happening.
"There's going to be some significant investment in Kentucky because of this legislation. Now, will it create hundreds of new jobs? We don't know what the potential is going to be."
Rudy said he thinks there might also be some potential to attract interest from companies who initially invested in cryptocurrency in China early on, "that are now looking for new places to go. We think we can land some (investment) here that we probably wouldn't have had a chance to land otherwise."
The state legislator said cryptocurrency mining is part of the "new" economy.
"It's a new type of manufacturing, one we never heard of before. Kids that are going off to college, kids that are now getting this computer training in high school, things that previous generations never thought of, this will be a new way for them to (find jobs) to stay at home," he said.
"We're excited about the potential and who knows? The way we look at it is it's all prospective. It's not giving anything away. If all this stuff comes here and develops, it's great.
"But if it doesn't, we haven't cost the state anything."