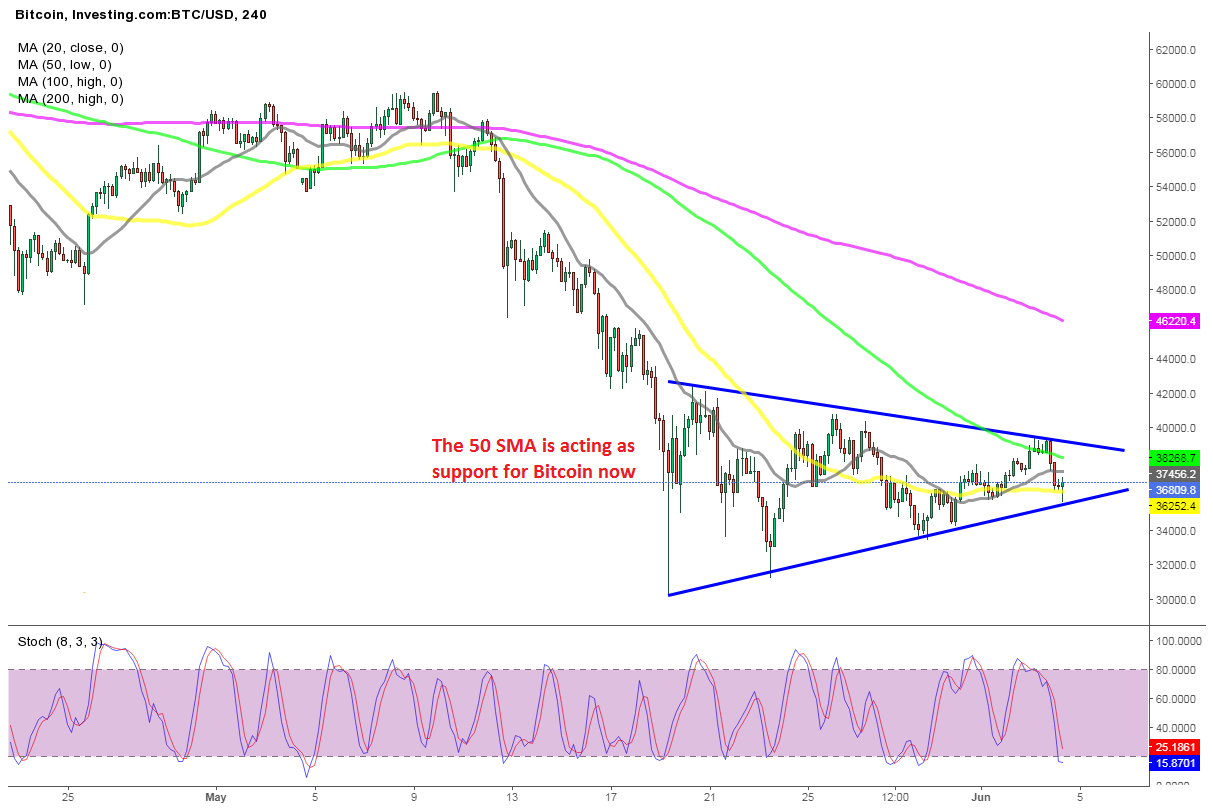 Cryptocurrencies haven't been able to resume the bullish trend after the crash in May. There have been several attempts from the buyers, but they have all ended eventually, so it is looking increasingly difficult for them to turn bullish as they were before the crash.
In Bitcoin, the highs have been getting lower actually, which shows that buyers are becoming weaker after every attempt. In fact, the last attempt to push Bitcoin higher this week ended below the $40,000 level.
BTC/USD
The price moved above the 100 SMA (green) on the H4 chart, which was a bullish sign, but there was no follow through and the price reversed back down overnight. Although, the 50 SMA (yellow) is acting as support now. A triangle is forming here as well, with the declining highs and the increasing lows, so a breakout is expected soon at either direction since the triangle is sort of symmetrical.
Right now, the price is oversold on the H4 chart, since the stochastic indicators is at the bottom of the range. So a bounce is expected from here to the top line of the triangle, but let's see if buyers can make a break this time.
The 100 SMA has added to the resistance as well in Ripple coin
Switching to Ripple (XRP), we see that a resistance level has formed around $1.08. The picture here looks a bit better, since the lows are getting higher, while the highs are constant around the level mentioned above. This means that buyers are stronger than sellers in XRP/USD, while the 50 SMA is also acting as support on the H4 chart as well.
So, a bunce is expected soon in Ripple coin too, although it remains to be seen if it can hold gains above $1, because buyers have found it hard. The ultimate bullish signal in Ripple would be the break of the resistance at 1.08. If buyers push above it and hold the gains, then that would be a sign that the bullish trend is back on again.