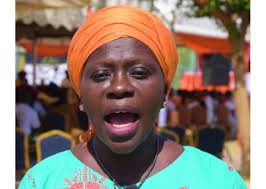 By: Nyima Sillah
Covid-19 has been a major challenge for all sectors in The Gambia more especially in the educational sector. This has led to the dropped out of so many female students within Kanifing Municipal Council, the low performance of students, teenage pregnancy, and more.
Recounting her personal experience of the pandemic, Haddijatou Mbaye, a student of Nusrant High School, one of the popular schools in the country, divulged the impact of Covid-19 on her education has done more harm than good.
Academically, according to her, her  performances has dropped so low due to the pandemic as much times were wasted at home hence schools were shut down following the declaration of State of Public Health Emergency by the government when coronavirus emerged in The Gambia in March 17, 2020.
"The time wasted at home to observe the State of Public Health Emergency could have been useful for me to complete my syllabus. With the norm of helping one another in my school through group studies, we were able to covered fewer topics through the introduced distance learning meant to cover the missing hours in schools," stated.
According to her "this didn't make any changes hence, not only me, have been struggling since then to improves in my performance for the past two terms. It's hard to study alone especially subjects like mathematics," she lamented.
Jarra Cham, a student at Media Academy for Journalism and Communication whined on the impact of the pandemic on her chosen career. She too stated that Covid-19 affected her a lot because she sat for more than 6 months at home without a organize classes on zoom or any online outreach.
Still on same level in her course "I should have been in another level now, but because of the Covid-19 I have to go back to re studying what I did learned before the outbreak of the pandemic last year," she weakly.
Like some other students that are not financially strong, Jarra said, financially, it also affected her education saying before the pandemic start she was able to pay her tuition fees but with the emerged of the pandemic she spent whatever money that come on her way on constraints inflicted on her by the pandemic "and now no money to offset my tuition fees and other charges."
Meanwhile, Pa Modou Sarr, a fussy parent shared similar experience, as Covid-19 has affected his children's education. He added that they got bored sitting at home "I have to employed the service of a study teacher for them. At the same time, it was very difficult for me and family because as a health worker there was no enough time to spend with them in the house, I was busied at the hospital with other frontline workers, too."
"My children did request for a study teacher severely, but I don't have money to hire one for them. They could not benefit from the online classes because of poor internet connection and lack of data," Mai Sarr a mother of four children explained.
She bitterly complained about not enough investment in education by the Gambia government saying "if our education system is well equipped with enough resources, all the students would have received full lectures from home without any challenges."
However, Women Rights Activist, Tabu Njie Sarr, disclosed that many girls dropped out of school due to the pandemic, most of these girls were married off.
"There is a policy government put in place called second chance education and I think this should be enforced to ensure that girls that left school early will have the opportunity to go back to school," she said.
In her opinion, government should ensure that there is a survey to determine how many girls across the country dropout of school during this pandemic as it will in making policies and programs.
"The government needs to ensure that all this information are research and documented in other to give these girls a second chance to education. It will also allow other stakeholders who are in the education sector such as civil society organizations and non-governmental organizations (NGOs) to intervene in some areas that are hard to reach by the government. And also ensure that the basic right to education of girls is fulfilled."
Lawyer Assan Martins, a Human Right Activist said: The government should step in as the bigger body, take responsibility make sure they review all situations and check the schools to see how best schools are impacted and bring out a policy whereby most girls who were dropout or have been engaged in marriage get a chance to go back to school.
"The mindset has to change in terms of the Covid-19 a lot of people went back home and felt reluctance to come back to school. Government should find out those reasons, do a thorough study and make sure they review and enhance the policy itself," he added.
"Education for all, education for girls, is all very important policy we need it and now the government should do more Covid-19 has impacted on some of them so government should encourage those out of school to go back to school by sensitising their parents."
Director of Regional Education Region One, Ousman Bah, disclosed that his Ministry has not made any research to find out the impact of Covid-19 on girl students.  But noted that "In the last GABECE exams that were done during the Covid-19, we tried to find out about the absentees during both WASCE and GABECE and what we realized was that we have almost less than 5% of students been absent from the exams which included both Boys and girls," he added.
"40% of that less than 5% absentees in that region were girls and when we asked the schools to be able to find out why they were absent for the exams, the school contacted their families to know some of the reasons why they were absent and the reasons forwarded by their families were that some of them were married to husbands, some traveled, and others were not ready for the exams because they were not prepared."
However, the regional director revealed that his office has plan which they are working on and it is in an advanced stage that's "looking at the impact of Covid-19 and the education sector."
This story was produced with support from Journalists for Human Rights (JHR), through its Mobilizing Media in the Fight Against Covid-19 in partnership with Mai Media and The Voice newspaper.


Post Views:
176